NORTH TUSTIN, Calif. — Foothill High School history teacher Roger Kavigan, 55, of Long Beach, was arrested Nov. 23 for allegedly sending suggestive text messages to a minor, authorities say.
This comes after video surfaced on social media on Nov. 18 of a male subject confronting Kavigan over the allegedly inappropriate text messages, according to the Orange County Sheriff's Department.
Kavigan was arrested at the Orange County Jail on $100,000 bail, according to county arrest records and investigators believe other victims may be involved.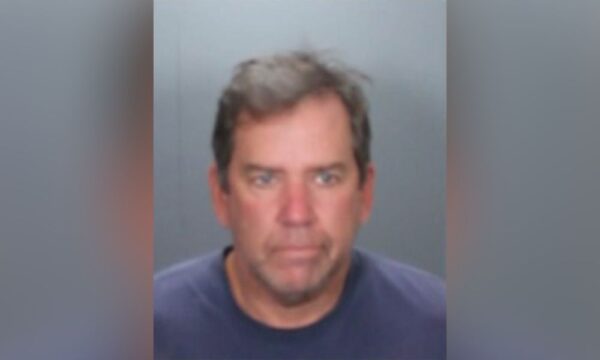 He was also placed on an indefinite leave of absence, Tustin Unified School District spokeswoman Rina Lucchese told The Epoch Times.
The leaked video shows a confrontation between Kavigan and an unnamed boy, believed to be in high school. The boy appears to have posed as his 14-year-old little brother to lure Kavigan into a meeting.
When confronted about it, Kavigan was asked why he was texting the boy's little brother, who allegedly had sexually explicit text conversations with him. The talks were revealed in the social media post.
After the video surfaced, the school district emailed parents, saying, "When the district became aware of this information, the district immediately notified child protective services and law enforcement."
The district was unaware of the allegations against Kavigan until learning of the wrongdoing through social media reports and the leaked texts, according to the email.
The District also stated that none of the allegations took place on campus or while performing his job duties.
"We have no information to suggest the allegations are related to the employee's official duties as a teacher or that the alleged misconduct took place on campus," the district's email said.
Parent Lisa Jewell, a former Tustin resident with children at Foothill High School, told The Epoch Times her daughter attended Kavigan's history class last year.
Jewell said her daughter came home after the first day of school and told her Kavigan asked the students to introduce themselves and say their pronouns and sexual orientations as an icebreaker.
"He seems pretty well protected … he's a staff teacher," she said.
Former Foothill High student Katelynne Hoffman, 19, told the Epoch Times that she also had Kavigan as her senior teacher.
She said she remembered her first year at the Gay-Straight Alliance Club, of which Kavigan was the principal, and felt uncomfortable entering the classroom.
"It was just an awkward feeling automatically walking into that room," she said. "I never went to that club again."
Hoffman also said she noticed that he was kinder to male students and would talk to them about anything they wanted.
"Especially in hindsight, you realize that he had certain people he was most fond of. Which he was getting closer to. But it was mostly boys," she said.
According to his LinkedIn page, Kavigan served as president of the Tustin Educators Association, an Irvine-based teachers' union, from 2014 to 2020.